Sept. 25 – Celebration of Yogi's Life
Join us on Sunday, September 25th from 12-5 p.m. for an all-day celebration of the life of Yogi Berra. One year ago we lost Yogi, but his legacy lives on through his Museum & Learning Center.
We will be offering free admission for the day and also the entire week leading up to the tribute day. Sunday will feature appearances by the Berra Family, local mascots, and more. We will have hourly giveaways, games, and everyone will leave with a small souvenir. Join us to celebrate our beloved icon!
Sept. 27 – Brian Kenny Discussion/ Booksigning – Cancelled. To Be Rescheduled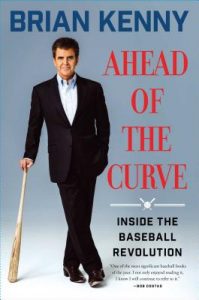 MLB Network host and commentator Brian Kenny's book event has been cancelled due to unforeseen circumstances and will be rescheduled. We will announce the new date and time shortly and apologize for the inconvenience.
Sept. 29 – Black Maria Film Festival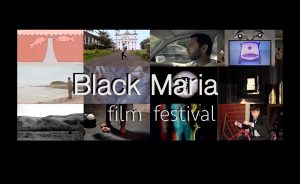 Series of sports-related films and shorts from the Black Maria Film Festival, the national touring festival which showcases independent films from all over the world. Films will be introduced by Festival director Jane Steuerwald, who will lead a discussion afterward. Program begins at 7:30 p.m. Tickets: $15 for adults, $10 for students. To RSVP: (973) 655-2378.
Oct. 8 & 9 – Screenings of the Perfect Game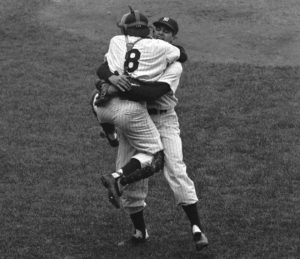 We will be celebrating the 60th anniversary of the famed perfect game caught by Yogi and pitched by Don Larsen by showing the entirety of the perfect game in our theater at 2:30 p.m. on Saturday, October 8th, and for two showings on October 9th at 12:30 and 2:30 p.m. The game is approximately two hours long.
The showings of the perfect game are included with admission to the Museum, which as always is $6 for adults, $5 for seniors, and $4 for kids under 18. Every guest will receive a free pin commemorating the perfect game as well.
Oct. 20 – Mickey Mantle Tribute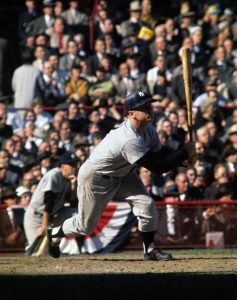 On what what would have been his 85th birthday, the Museum will celebrate the life of Mickey Mantle with a special film about the Yankee legend, with screenings at 1 p.m. and 3 p.m. Regular Museum admission.
Nov. 2 – Baseball: The New York Game
Special presentation on baseball and its relationship to New York society and culture by Tony Morante, Yankee historian and director of Yankee Stadium tours. Regular admission. Program starts at 1 p.m.
Nov. 15 – Yakkin' at Yogi's Charity Dinner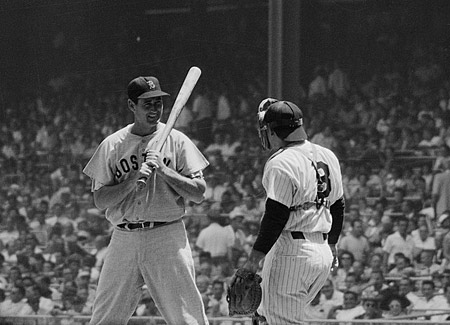 In honor of Yogi, a master of chitchat and small talk, especially around home plate, the Museum presents an intimate charity dinner featuring a celebrity guest at each table throughout the Museum. "Yakkin at Yogi's" is a fun, unique event celebrating the art of conversation over dinner, with proceeds to support the Museum's education programs.
Celebrity guests include Bobbi Brown (makeup maven), Don Garber (MLS commissioner), Harold Reynolds (MLB Network analyst), Sweeny Murti (Yankee correspondent), Arlene and Cheryl Howard (wife and daughter of Yankee legend Elston Howard), Priscilla Lopez (actress), Russ Salzberg (broadcaster) and others.
Tickets $250, to RSVP (973) 655-2378.
Nov. 17 – Joe Buck Discussion/Booksigning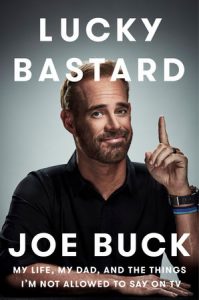 One of sports' most accomplished broadcasters, Joe Buck will talk about his life, career, and memorable relationship with his father, the legendary Jack Buck, followed by a signing of his new memoir Lucky Bastard: My Life, My Dad, And The Things I'm Not Allowed To Say on TV.
Over the past two decades, Buck has moved seamlessly between announcing for the NFL, MLB, and even golf – and remains the voice you hear during the year's biggest games, including the World Series and Super Bowl.
Event begins at 7 p.m. To RSVP or pre-order a book call (973) 655-2378.
Dec. 3 – What's It Worth? Memorabilia Appraisal Day
John Brigandi of Brigandi Coin and Collectibles of New York City, one of the nation's preeminent memorabilia experts, will appraise items and collectibles from visitors, with a limit of three items per person. Event runs from 12 noon to 4 p.m. – regular Museum admission ($6 per adult, $4 per student).
If you're wondering whether the "junk" gathering dust in the attic or sitting at the neighborhood garage sale is valuable or just a curiosity, Brigandi and his team will help educate visitors and tell "what's it worth."