SPECIAL WORKSHOPS
The Museum provides coaches, parents and students dynamic workshops related to today's hot-button issues in youth and scholastic sports. Among the programs available: Developing a Code of Conduct for Athletes and Parents; Team-building Techniques; Captains Workshop; Learning Sportsmanship; and Helping Athletes Reach Peak Performance. Also,  sportsmanship and anti-bullying programs are available at the YBMLC or can be delivered at your school as part of assembly programs. The Museum also offers afterschool enrichment programs. The Museum also provides elementary school educators pre-visit materials for character-based programs available to download here. Schedule a tour or program at the Yogi Berra Museum & Learning Center, please call (973) 655-2378  or e-mail  [email protected]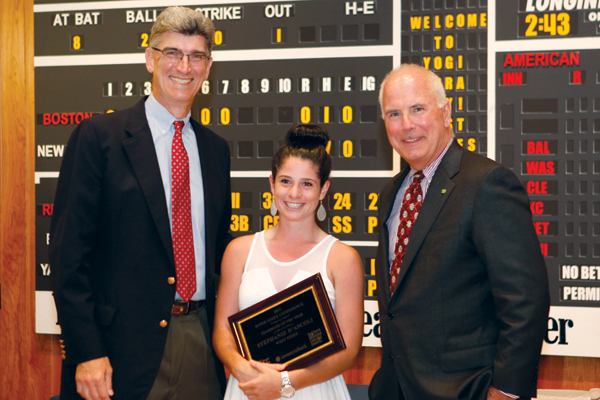 Former NY Giants quarterback Scott Brunner (l.) with 2013 Best Teammate recipient Stephanie D'Ascoli and Investors Bank CEO Kevin Cummings
BEST TEAMMATE PROGRAM
In 2013, the Museum, in partnership with Investors Bank and Super Essex Conference (SEC), instituted the Best Teammate Award.   Each of the 37 high schools in the SEC selects one student-athlete who is a consummate teammate, promotes team unity, and influences his/her team's culture in the most positive manner.  The Museum proudly recognizes these exemplary "best teammates" with a special award and year-end banquet.
MONTCLAIR STATE PARTNERSHIP
In partnership with various departments at Montclair State,  the Museum periodically hosts panel discussions and seminars on topical sports issues. These programs are open to visiting students and the public.