Federal Authorities Apprehend Suspects in Yogi Berra Museum & Learning Center Robbery
For immediate release
Contact: Tom Blim (917) 847-4833 or [email protected]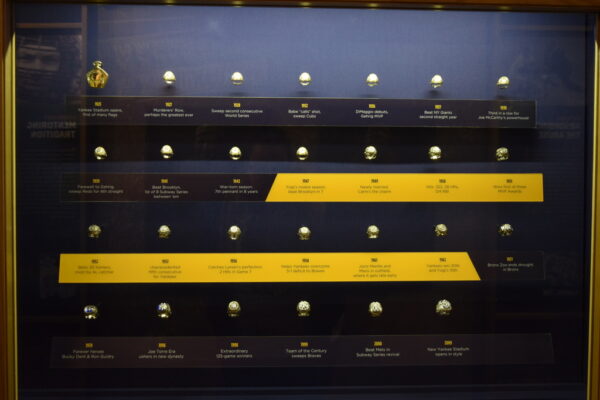 Federal Authorities Apprehend Suspects in Yogi Berra Museum & Learning Center Robbery
Little Falls, NJ – THURSDAY, June 15, 2023 – Today, federal law enforcement officials announced the apprehension of the individuals responsible for the 2014 robbery of priceless memorabilia from the Yogi Berra Museum & Learning Center. The Department of Justice; the US Attorney's Office, Middle District of Pennsylvania; the FBI; Montclair State University Police, and other dedicated law enforcement representatives have been recognized for their relentless pursuit of justice in this case.
"We want to extend our deepest gratitude to the members of the law enforcement community involved for their unwavering commitment to solving this case," said Eve Schaenen, Executive Director of the Yogi Berra Museum & Learning Center. "Their dedication has been instrumental in bringing those responsible to justice."
As the investigation concludes, the Museum acknowledged the fact that the original stolen treasures will not be recovered. However, the loss of these items does not diminish the extraordinary legacy of Yogi Berra's remarkable baseball career and his standing as a national treasure.
"My family is grateful that those responsible for the theft have been apprehended, and deeply saddened that none of those pieces of sports history will be recovered," said Lindsay Berra, granddaughter of Yogi Berra and a member of the Museum's Board of Trustees. "I remember when my grandfather first heard about the robbery, his main concern was that the Museum was still safe for kids to come and visit. Educating the next generation was always his priority for the Museum."
In response to the theft, the Museum would also like to express its deepest appreciation to the New York Yankees, the New York Mets, Major League Baseball, and the generous donors who rallied together to replace the stolen items. These acts of generosity and support ensured that the Yogi Berra Museum & Learning Center can continue to showcase a comprehensive collection of memorabilia, including a full set of actual World Series Championship rings and numerous other treasures representing Yogi's illustrious life and career.
"We are honored to uphold Yogi's legacy by continuing to showcase these items and provide educational experiences for children and visitors each day," said Schaenen. "His passion for baseball and education remains at the heart of our Museum's mission, and we are proud to carry it forward."
About The Yogi Berra Museum & Learning Center:
The Yogi Berra Museum & Learning Center is a nonprofit sports education organization on the campus of Montclair State (NJ) University. The Museum's mission is to preserve and promote the values of perseverance, respect, sportsmanship and excellence through inclusive, culturally diverse, sports-based educational exhibits and programs.