Visit
HOURS:
Open Fridays, Saturdays & Sundays beginning September 26, 2020.
Open for 2-hour time slots: Noon–2pm & 3–5pm EST.
Advance timed reservations are required for all Museum visits.
ADMISSIONS:
$10 for adults
$5 for children under 18
$5 for seniors
Veterans and Montclair State students free
REOPENING SATURDAY, SEPT. 26, 2020 FOR LIMITED VIEWINGS.
Please use the link below to purchase your admission for a specific date and time slot.
Veterans, Montclair State students and Members always get in free! Contact us at 973.655.2378 or [email protected] to set up your free admission. To learn more about becoming a Member, visit our Membership page.
By purchasing admission online you are agreeing to the Museum's terms and conditions and these Montclair University visitation guidelines. For a full list of the Museum's visitor guidelines and our practices to keep you safe, please visit our COVID-19 protocol page.
---
Directions
On the campus of Montclair State University
8 Yogi Berra Drive, Little Falls, NJ 07424
Montclair State University is located on Valley Road and Normal Avenue in Montclair, NJ. The University's main entrance is on Normal Avenue.
GPS Directions
Enter into your GPS: 8 Yogi Berra Drive, Little Falls, NJ 07424
From Points North
Take Garden State Parkway to Route 46 West (exit 154). Exit onto Valley Road (South) toward Montclair.*
From Points South
Take Garden State Parkway to Route 3 West (exit 153B). Exit onto Valley Road (South) toward Montclair.*
From Midtown Manhattan
Take Lincoln Tunnel to Route 3 West for approximately 10.5 miles. Route 3 will merge to Route 46—stay right. Take first exit immediately after the merge, onto Valley Road (South), toward Montclair.*
From Upper Manhattan
Take the George Washington Bridge to Route 80 West. Take Exit 62 to merge onto the Garden State Parkway South. Take Exit 154 for Route 46 toward Clifton. Exit onto Valley Road toward Paterson/Montclair.  Make a right and prepare to make an immediate left onto Valley Road (south).*
*Once on Valley Road (south) – Stay on Valley Road for one mile to the first traffic light. Turn right onto Normal Avenue. Make another right into the main entrance of the campus. Follow the blue signs to Yogi Berra Stadium. The Museum is located adjacent to the stadium.
---
Parking
Convenient parking is available in the lot directly across from the Museum.
---
Accessibility
All public areas of the Museum are wheelchair accessible. The entrance is wheelchair accessible with a power-assisted door.
Wheelchairs are available free of charge on a first-come, first-served basis. Motorized wheelchairs are permitted.
"When you come to a fork in the road, take it."
– Yogi Berra
---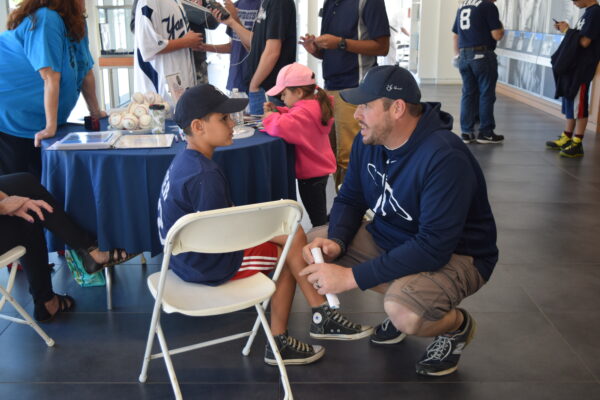 Bring your pod! Groups up to 10 can enjoy the Museum all for themselves.
For more information on how to reserve a group admission, visit our Groups & Tours page.
---
The Yogi Berra Museum & Learning Center offers a unique and engaging setting for special events of all kinds, including weddings, birthday parties, receptions, workshops and corporate retreats. For more information on the 8,200-square-foot facility and how to rent it safely, please visit our Rentals page.