Bob Feller "Act of Valor"
On display until June 6, 2022
Legacies to Remember
Before Yogi wore Yankee pinstripes, he donned a US Navy uniform and served his country during World War II. Fellow Hall of Famer Bob Feller was the first American professional athlete to enlist, signing up just days after the attack on Pearl Harbor in 1941. Explore the stories of all 39 Hall of Fame inductees who served our military during World War II, and be inspired by their legacies of citizenship, sacrifice and service.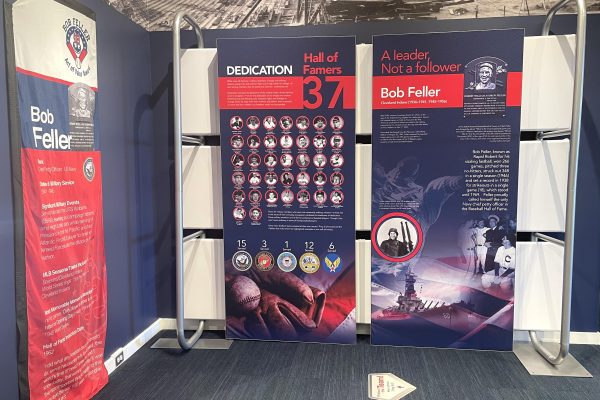 Dedicated to our Hall of Fame Heroes
37 Hall of Fame veterans are featured for their service to country and to America's pastime. Two most recent inductees -- Gil Hodges and Buck O'Neil -- will bring the roster to 39 players once their plaques go up in Cooperstown later this year.
Jerry Coleman & Larry Doby Banners
Rotating banners celebrate the players' achievements on the playing field and the battle field. Jerry Coleman was a Marine aviator who served in both WWII and the Korean War. Larry Doby was a seaman in the US Navy, and served in the Pacific.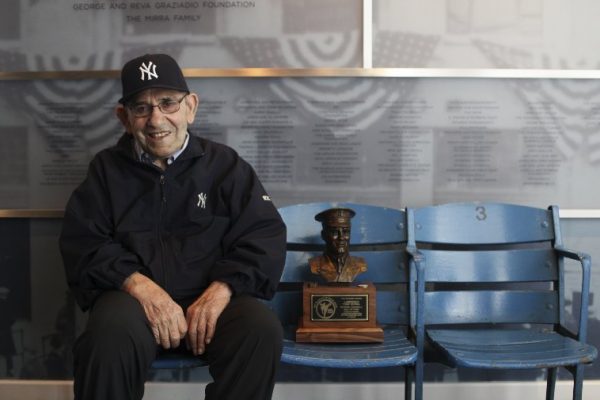 Bob Feller Act of Valor Award
Yogi was the inaugural recipient of the Act of Valor Award, receiving it here at the Museum in 2013. The Bob Feller Act of Valor Foundation recognizes and honors our service men and women who proudly serve our country.