LeRoy Neiman's Fall Classics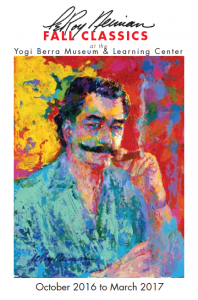 LeRoy Neiman is an American institution, arguably the most prolific and recognizable artist of his time. For generations, his brilliantly colored paintings, posters and sketches celebrated heroes in sports and entertainment and the good life.
Neiman (1921-2012) grew up in St. Paul, Minn., a scrappy kid who began his career in Catholic school by drawing ink tattoos on the arms of his fellow students. After studying and then teaching in Chicago, he began his distinctive style by using quick brush strokes with the enamel paint that was being tossed out by a building janitor,
During his long career, Neiman was an eye-catching figure with his wide mustache and ever-present cigar. He was a fixture at prize fights, Olympics, Super Bowls and World Series throughout the second half of the 20th century, his drawings often made on the spot.
And his masterworks exemplified the strong bond between art and athletics, and the importance of sports in American art and culture. As Neiman said in 2008, "I've zeroed in on what you would call action and excellence … Everybody who does anything to try to succeed has to give the best of themselves, and art has made me pull the best out of myself."
The Yogi Berra Museum & Learning Center is proud to display some of LeRoy Neiman's big-name subjects in baseball's biggest showcase, the World Series. We are deeply grateful to the LeRoy Neiman Foundation and McMullen Family for making this exhibit possible.